04/12/2023
Pictures to the LEGO Ideas Tales of the Space Age revealed!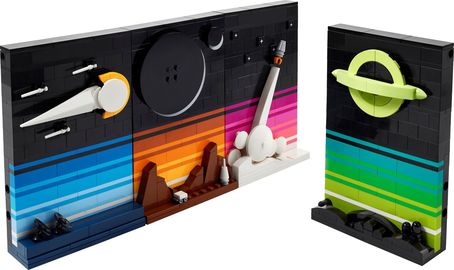 The pictures to the LEGO Ideas Tales of the Space Age (Set 21340) have been revealed. The set has 688 pieces and will cost 49.99 Euros. The new item will be available on May and has been listed on LEGO.com.
Tales of the Space Age (Set 21340)
Pieces: 688
Prices: $49.99 / £44.99 / €49.99
Released in: May 2023 at LEGO.com
Product description
Turn off your thrusters and let your mind drift into space with this LEGO® Ideas Tales of the Space Age (21340) building set. It features 4 connectable brick-built 3D postcards, each depicting scenes inspired by 1980s sci-fi myths, films, books and posters. Create cool minimalist LEGO brick representations of an observatory for viewing comets and shooting stars, a moon base and lunar eclipse, a shuttle blasting through space, and a black hole.

Build together, display together

A stellar gift idea for space, astronomy and art lovers, the buildable postcards look great freestanding on a table or shelf or hung on the wall. The models are also easy to connect for displaying together. The set comes with separate building instructions for each postcard, making it an ideal group activity to enjoy with family or friends.

Welcome to your zone

Explore LEGO Sets for Adults, a carefully curated collection of exciting models. Whatever your passion, there is a building project waiting for you.


4 connectable, space-themed 3D postcards (21340) - Tell Tales of the Space Age in LEGO® style with these buildable postcard models, inspired by 1980s sci-fi myths, films, books and posters
Original designs - Build colourful images of an observatory for viewing comets and shooting stars, a moon base and lunar eclipse, a space shuttle and a black hole
Recreate different constellations - The pink/purple postcard features star elements that can be arranged to mirror the Ursa Major, Cepheus, Ursa Minor or Cassiopeia constellations
Display together or individually - The postcards can be connected in any order. Display them on a flat surface or mount them on the wall using the hangers on the back of each one
Gift idea for adults - Treat yourself or give this 688-piece LEGO® Ideas build-and-display model as a birthday, Christmas or surprise gift for lovers of space, astronomy and art
Home decor - Each buildable postcard measures over 14 cm (5.5 in.) high, 9 cm (3.5 in.) wide and 3 cm (1 in.) deep and can be displayed freestanding or hung on the wall
Build solo or together - Separate building instruction booklets for each postcard mean building can be a group activity. Also includes a booklet featuring the set's fan designer and LEGO® designers
The LEGO® fans' choice - This collectible model for adults is one of many LEGO Ideas sets, each created by a fan designer, voted for by LEGO fans and produced by the LEGO Group
Premium quality - LEGO® bricks meet demanding industry quality standards to ensure that they connect simply and strongly
Safety assurance - LEGO® components are dropped, heated, crushed, twisted and carefully analysed to make sure that they comply with strict global safety standards
Link:
Pictures: