02/16/2023
Pictures to the LEGO Ideas BTS Dynamite revealed!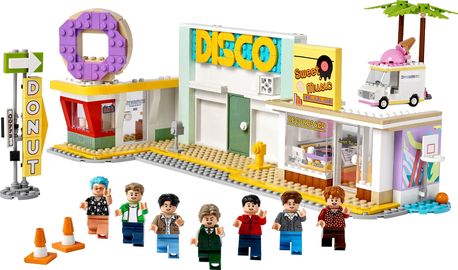 The pictures to the LEGO Ideas BTS Dynamite (Set 21339) have been revealed. The set has 749 pieces, 7 minifigures and will cost 99.99 Euros. The new item will be available on March and has been listed on LEGO.com.
BTS Dynamite (Set 21339)
Pieces: 749
Minifigures: 7
Prices: £89.99 / €99.99 / $99.99 / 169.99 AUD / 129.99 CAD
Released in: March 2023 at LEGO.com
Product description
Capture the joyful energy of 21st-century pop icons RM, Jin, SUGA, j-hope, Jimin, V and Jung Kook with the LEGO® Ideas BTS Dynamite (21339) music video set. Find your building groove to recreate colourful scenes from the video for their multi-platinum single Dynamite, with LEGO brick versions of the disco, record shop, doughnut shop, ice-cream van and more. Add LEGO minifigures of the group members to the different locations or place them all on the special stage and turn the wheel to see them dance.

Just like the Dynamite video

A great gift idea for those who love BTS, this play-and-display model is packed with authentic details, such as BTS records in the record shop, buildable palm trees and the basketball hoop in front of the wall with a mural. Find instructions in the box and on the LEGO Builder app to guide every step of your fun build.

Welcome to your zone

Explore LEGO Sets for Adults, a curated selection of exciting models. Whatever your passion, there is a set for you.


LEGO® Ideas BTS Dynamite music video set (21339) - Build your love for BTS by recreating scenes from the video for their global hit single Dynamite with this play-and-display set
LEGO® minifigures of all the BTS group members - RM, Jin, SUGA, j-hope, Jimin, V and Jung Kook minifigures, each with microphone elements
Build scenes from the video - LEGO® brick versions of the disco, record shop and doughnut shop, each packed with authentic details, plus the ice-cream van, basketball hoop and 2 palm trees
Recreate a BTS group dance - Place all the BTS minifigures on the detachable stage and turn the wheel to see them dance together
Fun gift idea - Treat yourself or give this collectible 749-piece LEGO® Ideas set as a birthday, Christmas or surprise gift for those who love BTS or any keen LEGO builder
Made for play and display - This main building model measures over 14 cm (5.5 in.) high, 38 cm (15 in.) wide and 16 cm (6 in.) deep
Step-by-step guide - Includes a booklet with illustrated instructions, plus the story of BTS and their rise to global fame as well as interviews with the set's fan designers and LEGO® designers
Chosen by LEGO® fans - This building set for adults is one of many LEGO Ideas sets created by fan designers, voted for by LEGO fans and produced by the LEGO Group
Premium quality - LEGO® bricks satisfy strict industry quality standards to ensure that they connect simply and securely for robust builds
Safety assurance - LEGO® components are rigorously tested and analysed to make sure that they comply with stringent global safety standards
Link:
Pictures: