05/09/2023
LEGO Ninjago 71799 Ninjago City Markets revealed!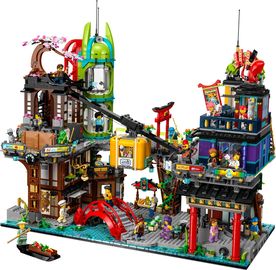 The pictures to the LEGO Ninjago City Markets (Set 71799) have been revealed. The set has 6163 pieces and will cost 369.99 Euros. The new item will be available on June and has been listed on LEGO.com.
Ninjago City Markets (Set 71799)
Pieces: 6163
Minifigures: 21
Prices: £319.99 / $369.99 / €369.99 / AU$549.99 / CA$479.99
Released in: June 2023 at LEGO.com
Product description
Kids aged 14+ and LEGO® collectors can experience the unique excitement and vibrancy of the place where the ninja live and play with this NINJAGO® City Markets (71799) building set. The world of NINJAGO's biggest ever model features 4 floors of shops, restaurants, offices and apartments, as well as a cable car, lift, boat, bridge and even a flushable toilet.

The ultimate NINJAGO set

There is something for NINJAGO fans old and young in this amazing set, including a bakery, a blacksmith's, a general store, the Borg store, market stalls, a rooftop food court and a karaoke club with a pool table and stage. The set also comes with 21 minifigures, including many never-before-seen fan favourites, so kids can role-play action from the NINJAGO Dragons Rising TV series.

A fun digital experience for LEGO builders

Let the LEGO Builder app guide you and your child on an easy and intuitive building adventure. Zoom in and rotate models in 3D, save sets and track your progress.


Extensive NINJAGO® cityscape - LEGO® collectors and kids aged 14+ can recreate action from the NINJAGO Dragons Rising TV series or proudly display this detailed NINJAGO City Markets (71799) set
21 minifigures - The model comes with many minifigures for role play, including Blacksmith Kai, Urban Sora, Urban Arin, Detective Zane, Hounddog McBrag, Gayle Gossip, Chamille, Miss Demeanor and Dareth
4 floors of fun - The model is crammed with shops, restaurants, offices and apartments, including a bakery, a blacksmith's, a general store, the Borg store, a karaoke club and a rooftop food court
On the move - To help the ninja travel around the NINJAGO® City model there's a cable car with 2 stations, an elevator and a boat
LEGO® gift idea - This 6,163-piece set can be given a birthday present or holiday gift to both young and older, nostalgic NINJAGO® fans who would enjoy a rewarding building experience
Display item - NINJAGO® City set measures over 18 in. (46 cm) high, 20 in.(51 cm) wide and 10 in. (25 cm) deep and would make a showpiece in any LEGO® fan's collection
Removable rooms and roofs - Several rooms can be removed to become separate play models and the whole set can be combined with NINJAGO® City Gardens (71741) for even more action
A new way to build - The LEGO® Builder app guides kids on an intuitive building adventure. They can save sets, track progress and zoom in and rotate models in 3D while they build
Premium quality - For more than 6 decades, LEGO® bricks have been made to ensure they connect consistently every time
Safety assurance - LEGO® building bricks meet stringent global safety standards
Link:
Pictures: