06/16/2023
LEGO Icons 10315 Tranquil Garden revealed!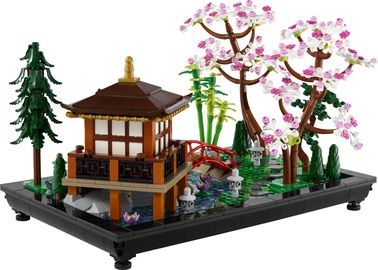 The pictures to the LEGO Icons Tranquil Garden (Set 10315) have been revealed. The set has 1363 pieces and will cost 104.99 Euros. The new item will be available on August 01st and has been listed on LEGO.com.
Tranquil Garden (Set 10315)
Pieces: 1363
Prices: £94.99 / $109.99 / €104.99
Released in: August 01st 2023 at LEGO.com
Product description
Enjoy a mindful building project with the LEGO® Icons Tranquil Garden (10315) building set for adults. Rewind as you craft each beautiful detail and enjoy rearranging the flora to create that perfect look for display in the home or office.

A feature-rich garden

Based on a traditional Japanese garden, this buildable model includes an arched bridge, stream, koi carp, lotus flowers, trees, rocks, stone lanterns and a pavilion with a detailed tea-ceremony room.

Welcome to the zone

Discover a space for relaxation with the LEGO Icons Tranquil Garden - a haven for adults and a great gift idea for gardening and mindfulness enthusiasts. Check out the inspiring range of LEGO building sets for adults.


Build and tend a beautiful garden - Take time out with this LEGO® Icons Tranquil Garden (10315) mindful building project for adults
What's in the box - Everything you need to build a Zen garden model with a pavilion, arched bridge, stream, koi carp, lotus flowers, trees, rocks and stone lanterns
Customise your display - Slots in the base of the Zen garden model make rearranging easy, so you can create different configurations for display in the home or office
A mindful gift - The LEGO® Icons Tranquil Garden is designed for adult fans of LEGO building and creative gardening projects
Authentic accessories - LEGO® accessories include a teapot and whisk
Digital building instructions - The LEGO® Builder app features a digital version of the building instructions included with this set
Dimensions - Measures over 21 cm (8 in.) high, 32 cm (12.5 in.) wide and 20 cm (8 in.) deep
Step into the moment - Discover the LEGO® Icons Tranquil Garden, part of a range of building sets designed for adult building fans
Quality materials - LEGO® building bricks are manufactured from high-quality materials. They're consistent, compatible and connect easily every time: it's been that way since 1958
Safety ensured - LEGO® pieces are rigorously tested for safety and quality to ensure the optimal building experience
Link:
More pictures