05/17/2023
LEGO Batman 76252 Batcave - Shadow Box revealed!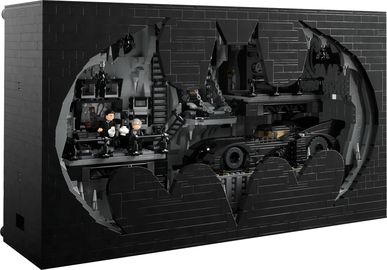 The pictures to the LEGO Batcave - Shadow Box (Set 76252) have been revealed. The set has 3981 pieces and will cost 399.99 Euros. The new item will be available on June 05th and has been listed on LEGO.com.
Batcave - Shadow Box (Set 76252)
Pieces: 3981
Minifigures: 7
Prices: $399.99 / £344.99 / €399.99
Released in: June 05th 2023 at LEGO.com
Product description
Adult enthusiasts can recreate the iconic Batcave™ from 1992's Batman Returns™ film with the LEGO® DC Batman™ Batcave - Shadow Box (76252). This 3,981-piece tableau incorporates movable items, minifigures and a feature-rich Batmobile™ to produce a detailed and dynamic display piece that will captivate all who see it.

Batman drama in a display case

Measuring over 51 cm (20 in.) wide, this Batcave tableau contains an assortment of authentic details, including movable items that can be controlled from the rear. Users can turn the chair, change the computer screen and open and close the tool store and illuminated Batsuit™ vault. For extra realism, a Batmobile with a variety of hands-on features is included along with 7 minifigures: Max Shreck, The Penguin™, Catwoman™, 2 versions of Batman, Alfred Pennyworth™ and Bruce Wayne™. For added convenience, a digital version of the set's building instructions can be found on the LEGO Builder app.


A Batman™ tableau - Adult enthusiasts can capture the drama and style of the Batcave™ from 1992's Batman Returns™ film with the LEGO® DC Batman Batcave - Shadow Box (76252) active display model
Authentic details - The scene includes a feature-rich Batmobile™ and 7 minifigures: Max Shreck, The Penguin™, Catwoman™, 2 versions of Batman™, Alfred Pennyworth™ and Bruce Wayne™
Dynamic action - Movable items can be controlled from the rear: turn the chair, change the computer screen and open and close the tool store and illuminated Batsuit™ vault
Realistic Batmobile™ - The roof opens for the Batman™ minifigure with the fabric cape to enter. Turning the cog on the side causes 2 hidden shooters to appear. A flame element attaches to the exhaust
Gift for adults - Experienced model-makers and Super Hero film enthusiasts will find this rewarding build-and-display project provides pleasure long after the construction work is over
Collectible curio - Measuring over 29 cm (11 in.) high, 51 cm (20 in.) wide and 14 cm (5.5 in.) deep, this celebration of Batman™ style will add interest to any home or workplace
Use your mobile device - For added convenience, a digital version of the set's building instructions can be found on the LEGO Builder app and rotate the model in 3D, save sets, track progress and find inspiration for new builds
Relax and recharge - The range of LEGO® Sets for Adults provides a rewarding build-and-display experience that lasts long after the construction work has been completed
Quality guaranteed - LEGO® components meet stringent industry quality standards to ensure they are consistent, compatible and easy to build with
Safety assured - LEGO® bricks and pieces are dropped, heated, crushed, twisted and analysed to make sure they satisfy rigorous global safety standards
Link:
Pictures: