07/02/2023
LEGO Art 31210 Modern Art revealed!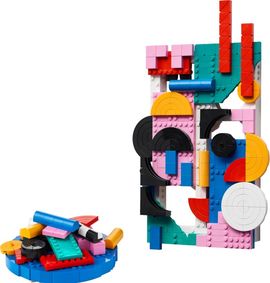 The pictures to the LEGO Art Modern Art (Set 31210) have been revealed. The set has 805 pieces and will cost 49.99 Euros. The new item will be available on August 01st and has been listed on LEGO.com.
Modern Art (Set 31210)
Pieces: 805
Prices: £44.99 / $49.99 / 49.99€
Released in: August 01st 2023 at LEGO.com
Product description
Explore your creativity with this LEGO® Modern Art (31210) building kit. Make a bespoke piece of modern abstract art by assembling a collection of colorful and differently shaped elements, including rectangles, triangles and circles.

Design your own piece of abstract art

There are no wrong ways to create: just experiment and have fun with the limitless possibilities. It's impossible to make a mistake! The accompanying building instructions are not there to tell you what to do, but rather toinspire you with aspirational images and suggestions for your artistic journey.

Hobbies and crafts for adults

LEGO® Art sets offer adult builders a chance to create their own piece of premium wall art while they enjoy an immersive and rewarding building experience. The sets cater for anyone with a passion for music, art or movies. When you are finished, display your creation on your wall using the hanger element.


Express yourself - Explore your creativity and artistic side by building your own piece of abstract art with this LEGO® Modern Art (31210) building kit
Custom piece of art - Assemble the collection of colorful and differently shaped elements, including rectangles, triangles and circles
Build and rebuild - There are limitless possibilities to what you can create with this abstract art building set. Remember, there are no wrong ways to build: just have fun and experiment
Modular frame - LEGO® builders can collect another Modern Art Set and connect their artworks together to produce an even bigger and bolder creation
Create and display - Display this 805-piece LEGO® hobby and craft project for adults on your wall at home using the hanger element
Gift for art lovers - This LEGO® Art set measures over 12.5 in. (32 cm) high and 7.5 in. (20 cm) wide and can be given to artistic people as a birthday present or holiday gift
High quality - For more than 6 decades, LEGO® building pieces have been made to ensure they are consistent, compatible and work every time
Always in safe hands - LEGO® building pieces meet stringent global safety standards
Link:
More pictures