08/31/2023
LEGO Ideas 21343 Viking Village revealed!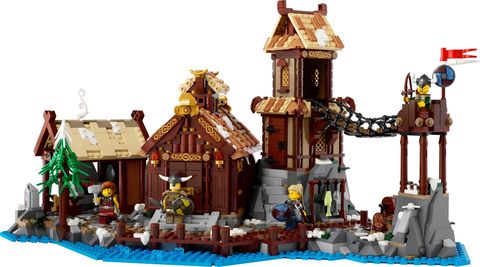 The pictures to the LEGO Ideas Viking Village (Set 21343) have been revealed. The set has 2103 pieces and will cost 139.99 Euros. The new item will be available on October 01st and has been listed on LEGO.com.
Viking Village (Set 21343)
Pieces: 2103
Minifigures: 4
Prices: £124.99 / $129.99 / €139.99
Released in: October 01st 2023 at LEGO.com
Product description
Take a trip back in time as you build and explore this richly detailed LEGO® Ideas Viking Village (21343) play-and-display model. An ideal gift for history-lovers, it features 3 connectible sections with a blacksmith's smithy, chieftain's longhouse and a watchtower, plus blacksmith, chieftain, shield-maiden and archer minifigures to bring the scene to life.

Revel in the details

Discover delightful features such as the blacksmith's forge with a flame-billowing function, shields printed with Odin's 2 ravens and 2 wolves, the chieftain's throne, a bridge to the watchtower and a cave for mineral mining. And look out for brick-built references to classic LEGO Vikings sets. There are instructions in the box and on the LEGO Builder app to guide you through every step of the mindful creative experience.

Building sets for adults

Welcome to your zone. LEGO Sets for Adults is a carefully curated collection of top-quality models. Whatever your passion, there is a building project waiting for you.


LEGO® Ideas Viking Village (21343) play-and-display model - Step back in time to the Viking Age as you build this detailed model, with a blacksmith's smithy, chieftain's longhouse and a watchtower
4 minifigures - A blacksmith, chieftain, shield-maiden and an archer, plus weapons and accessory elements including multiple shields, a paintbrush, hammer, sword, spear, goblet and a bow and arrow
Easy access - The blacksmith's smithy and longhouse interiors have removable roofs and the medieval watchtower has a removable wall for easy viewing of the detailed interiors
Authentic details - A forge with a flame-billowing function, carved rune stone element, shields printed with Odin's 2 ravens and 2 wolves, chieftain's throne, bridge, cave for mineral mining and more
Gift idea for adults - Treat yourself or give this 2,103-piece Viking Village building set as a birthday present, Christmas gift or special surprise to a medieval history lover or keen LEGO® builder
Brick-built centrepiece - The buildable Viking Village model comprises 3 connectible sections and measures over 24 cm (9.5 in.) high, 46 cm (18 in.) wide and 26 cm (10 in.) deep
Step-by-step guide - Includes an illustrated booklet featuring interviews with the set's fan designer and LEGO® designers, plus instructions to guide every step of the immersive building experience
The LEGO® fans' choice - This collectible building set for adults is one of a diverse range of LEGO Ideas sets, each created by a fan designer, voted for by LEGO fans and produced by the LEGO Group
Premium quality - LEGO® bricks satisfy demanding industry quality standards to ensure that they connect simply and strongly
Safety first - LEGO® components are dropped, heated, crushed, twisted and carefully analysed to make sure that they comply with stringent global safety standards
Link:
More pictures