09/22/2022
Pictures to the 2022 LEGO Winter Village revealed!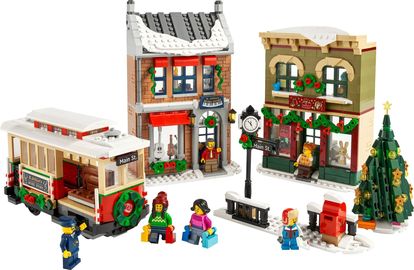 The pictures to the LEGO Holiday Main Street have been revealed. The set has 1514 pieces, 6 minifigures and will cost 99.99 Euros. The new item will be available on October 03rd and has been listed on LEGO.com.
Holiday Main Street (Set 10308)
1514 pieces
Minifigures: 6
Released in: October 034d 2022 at LEGO.com
Prices: $99.99 / €99.99 / £89.99 / AU$169.99 / CA$129.99
Product description
Packed with Yuletide cheer, the LEGO® Christmas High Street (10308) set is the latest addition to the popular LEGO Winter Village Collection. Build a sweet Christmas village display complete with a toyshop, music shop and shoppers, plus the shopkeepers and their cosy apartments. Then build the tram, ready to take the shoppers home after a fun outing.

Riding through the snow

What better way to travel than on a festive tram? Enjoy building all the details of the vehicle, including seats for 4 minifigures. You can even motorise the model by adding LEGO Powered Up and your own track and lights (all sold separately).

Spreading Christmas spirit

Explore all the details of the toyshop and music shop. There are gifts in each, plus a detailed apartment above each one where the shopkeeper can rest after a busy day. Extra details include the tram stop, plus a child who is posting a letter to Santa. 4 building booklets are included so the family can enjoy building together.


A festive tradition – Enjoy quality time crafting all the details of this Christmas High Street (10308) buildable model with a toyshop, music shop, shoppers, shopkeepers and their cosy apartments
Hop on the tram – Assemble all the details of the tram, ready to transport the minifigures. It's decorated for Christmas and includes 4 seats for passengers
Let's go shopping – Head to the Santa's Toys and Games toyshop and H. Jollie's music shop to find toys and musical instruments, all waiting to make someone's Christmas dreams come true
Time to relax – When the working day is over, the shopkeepers can relax in their apartments. Discover cosy details with a tree, presents and bed in the toyshop, and a dining area in the music shop
6 minifigures – Bring the LEGO® Christmas village display to life with the set's ensemble of minifigures. There are 2 shoppers, a child posting a letter to Santa, 2 shopkeepers and a tram driver
Powered Up compatible – Motorise the model by adding LEGO® Powered Up and the option to add your own track and lights (all sold separately)
Dimensions – The tram measures over 10 cm (4 in.) high, 17 cm (6.5 in.) long and 7 cm (2.5 in.) wide
For adults and families – This LEGO® set is part of a range of building sets designed for adults and is also a build you can enjoy with family and friends, or give as a gift for Christmas lovers
Quality materials – LEGO® building bricks are manufactured from high-quality materials. They're consistent, compatible and connect and pull apart easily every time: it's been that way since 1958
Safety ensured – With LEGO® pieces, safety and quality come first. That's why they're rigorously tested, so you can be sure that this model is robust
Link:
More pictures